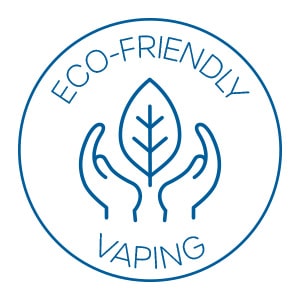 Binned the cigarettes? Then you can have pride that you are not contributing to the millions of cigarette butts that are thrown onto the street by smokers every day, and you are no longer contributing to the worsening of the environment caused by growing tobacco or lining the pockets of Big Tobacco companies.
That being said, vaping is not completely without its environmental impact. It is important that we are as environmentally friendly as possible whilst we enjoy our daily dose of our favourite flavours.
Choice of devices
Look for a device that can be recharged. Disposable vapes are the worst choice for the environment. They entail throwing away a lithium ion battery, which can be recharged three hundred times, after a single use.
As your skill grows, consider using refillable pods. A pre-filled pod is used once and then discarded. A refillable pod can be used multiple times before needing replacing.
It's also worth considering using replaceable coils. When you use a fixed coil, you need to dispose of the pod when the coil comes to the end of its life. By switching to replaceable coils, you can ensure the pod lasts longer.
All of these measures also make vaping more economical, so it's a win-win for you and the environment!
Recycling Matters!
You normally find recycling instructions on e-liquid packaging. Most bottles, lids and packaging can be recycled. Your e-cigarette device, if it contains metal and glass, can also be recycled.
All batteries, integrated or changeable, stop working at some point and will need to be thrown away at some point. But the way you throw them away is what matters. Always make sure you put your old battery in a designated battery recycling bin rather than throwing it out with your general household rubbish.
Batteries can also be returned to the seller under the WEEE scheme.
Discarding E-Liquid
Children and pets have a knack of getting into everything and could ingest your discarded liquid. This can could lead to toxic poisoning! You may want to avoid throwing them into your outside bin too. Nighttime visitors like foxes and other wildlife could ingest the e-liquid.
The safest option if you do want to throw e-liquid away is to empty the e-liquid into an absorbent material (cat litter, wood chippings etc) and put it into a biodegradable bag for a secure bin.
Gifting E-Liquid and Devices
Another option to become an eco-friendly vaper is to gift any e-liquids you have decided not to use or decide you don't like the flavour to other vapers that you know.
Re-gifting your e-liquids rather than throwing them out is a great way of reducing environmental impact, as pouring e-liquid down the sink could result in that liquid ending up in our waterways. The worst thing you can do is throw them away in your household bin!
You can also gift old devices. This has the additional benefit that it could help someone else to make the transition from smoking to vaping.
Saving Power
This sounds obvious but switching your e-cigarette device off completely when you are not using it will save power and help prolong the lifespan of your battery as opposed to leaving it on standby in between vapes. Try to only charge your device until it reaches full charge instead of leaving it to charge for hours on end or overnight. Not only does this help save energy, but it is also about safety!
Your Carbon Footprint
Buying UK-manufactured e-liquid is another great way of being an eco-friendly vaper. It dramatically reduces the shipping carbon footprint.
Although most hardware is manufactured overseas, it's important to look into buying a reliable, high-quality device from a reputable and responsible manufacturer which will last at least 6-12 months to reduce how many times you need to replace your kit. Some of these manufacturers are also starting to use recyclable packaging.
You have made a great choice for your health by switching to vaping. Now it's time to make the right choices for the health of the environment and become an eco-friendly vaper!